AquaRite Low Salt Generator with 25K Cell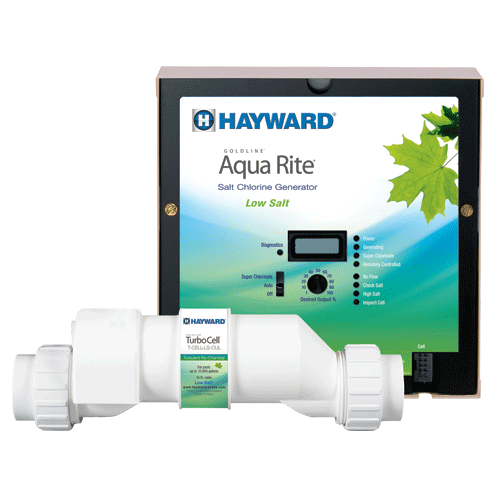 The AquaRite® Low Salt Chlorine Generator from Hayward offers the same simple, safe and affordable approach to pool sanitization that you would expect from the original AquaRite®, but uses virtually half the amount of salt, making it an even more environmentally friendly approach to salt chlorine generation. They easily install on standard filtration system, both for new construction and on existing pools.
Digital salt display and 8 diagnostic indicators

Patented Turbo Cell® for maximum efficiency and flow rates

Quick, weatherproof connections inside control door

Locking weatherproof enclosure

Operates at just 1200 - 1800 ppm

Product Warranty - 3 year Manufacturers Warranty
Salt System Specifications
For Pools up to...
25,000 gallons
Hayward® AquaRite Brochures
Hayward® AquaRite Manuals
Aquadam Pool Services provides installation services for all the products we sell.
We strive to ensure all installations are completed per manufacturer specifications and include all the parts and services required.
Included are the installation of check valves, sacrificial anodes and equipment bonding wire where applicable. We include all Water Connections, Electrical Connections and Gas Connection Services (subcontracted to Paradigm Venture Heating and Cooling) and all the required plumbing parts with our pricing. *some conditions may apply
Installation pricing is based upon the replacement of existing equipment of similar specifications, size and function. Additional charges may apply if additional parts and labour are required to upgrade services or to conform to local codes.
(Ex. Upgrading Electrical Services or Gas Supply Services)
For additional product information please visit Hayward Pool Products website.