Mursatt Salt WaterCare Package - 100,000L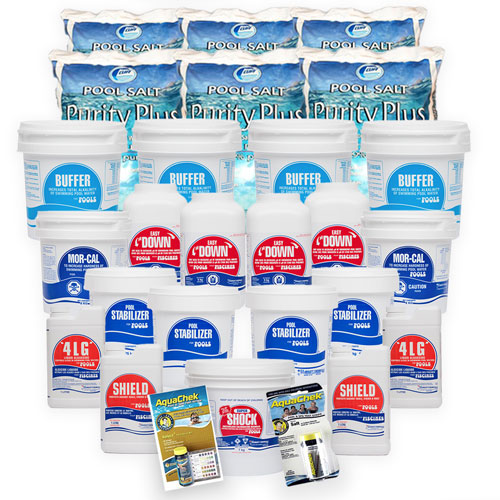 Mursatt Salt WaterCare Package for pools up to 100,000L
Each Package Includes the following:

6 X 20Kg High Grade Pool Salt

1 X 7Kg

Super Shock
4 X 5Kg

Easy Down
2 X 1L

4LG Algaecide
2 X 1L

Shield
4 X 8Kg

Buffer
2 X 8Kg

MorCal
2 X 1L

Shield

4 X 1.75Kg Stabilizer

1 bottle AquaChek Select 7-in-1 Test Strips

1 bottle AquaChek White Salt Water Test Strips
This package qualifies for free local delivery in Oakville and Burlington
For more information including product usage instructions please visit the Mursatt WaterCare website.
The management of factors such as pH, total alkalinity, calcium hardness and water temperature will provide a more enjoyable swimming experience while preventing costly repairs due to corrosion and scaling.
Test your pool water regularly and make the necessary adjustments to help protect and prolong the life of your pool equipment.
Recommended daily levels are as follows:
Free Chlorine: 1.0 - 3.0 ppm
pH: 7.2 - 7.8
Total Alkalinity: 100 - 120 ppm
Calcium Hardness: 200 - 300 ppm