HASSLEfree Pool Opening Kit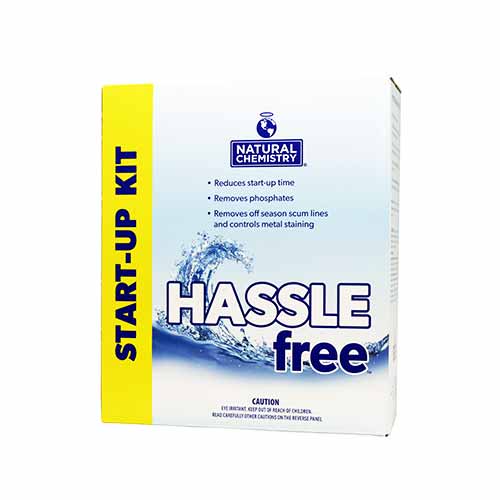 Fast and Efficient Start-Ups and Closings.
Natural Chemistry's Hasslefree Kit is a cold water formulation that works all winter long. By adding this kit it offers the ability to clean and protect during the off season by preventing metal and non-living organic staining.
Cold water SMARTZyme technology works all winter long
Reduces existing or prevents off season waterline ring
Cleans and protects during the off season
Prevents metal staining and non-living organic staining
Saves time and money
For more information including product usage instructions please visit the Natural Chemistry website.
The management of factors such as pH, total alkalinity, calcium hardness and water temperature will provide a more enjoyable swimming experience while preventing costly repairs due to corrosion and scaling.
Test your pool water regularly and make the necessary adjustments to help protect and prolong the life of your pool equipment.
Recommended daily levels are as follows:
Free Chlorine: 1.0 - 3.0 ppm
pH: 7.2 - 7.8
Total Alkalinity: 100 - 120 ppm
Calcium Hardness: 200 - 300 ppm