Custom Pool Werx Liner Replacements
Update the look of your backyard with a custom PoolWerx® vinyl liner professionally installed by Aquadam Pool Services.
All PoolWerx® liners are constructed from · 100% Virgin Vinyl · Custom & cut constructed for your pool. Formulated to fight off mold, mildew, the fading effects of the sunlight, heat and chemicals. All of the seams in the liner are overlapped 3/4" providing the strongest, most durable hold available.
Poolwerx liners feature a Limited Lifetime Warranty.
STEP 1
Please begin by submiting a vinyl liner quote request to Aquadam Pool Services.
A service representative will contact you to setup an appointment where we evaluate your individual requirements.
If applicable, any available options to extend the use of your current liner will be presented.
We will present a written quote outlining the costs involved with installaling a new vinyl liner.
STEP 2
Upon your approval, Aquadam Pool Services will begin the process by measuring your pool.
Your pools exact dimensions are carefully measured and plotted using the triangulation method.
Wall height, hopper depth, transitions and slopes are all taken into account.
"Standard Pools" do not exist in our view and we therefore take the time to ensure every variable is accurately measured and recorded.
STEP 3
The exact measurements and your selected liner pattern are then forwarded to the manufacturer for production.
Advanced CAD software allows for a completely automated design and cutting process.
The result... A perfectly fitting custom vinyl pool liner.
STEP 4
Upon receipt of your liner, Aquadam Pool Services will then complete the installation.
Every surface is thoroughly cleaned and prepared with great attention to detail.
The required replacement gaskets are adhered in place and the liner is "hung" into position.
A vinyl vacuum is temporarily setup to "hold" the liner throughout the filling process.
Once filled to the appropriate level with water, the vinyl vacuum is removed and the skimmer and returns are cut out.
The end result is a perfectly fitting liner installed by Aquadam Pool Services.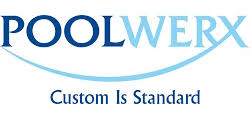 For additional product information please visit the PoolWerx website.