Hayward MaxFlo Variable Speed Pump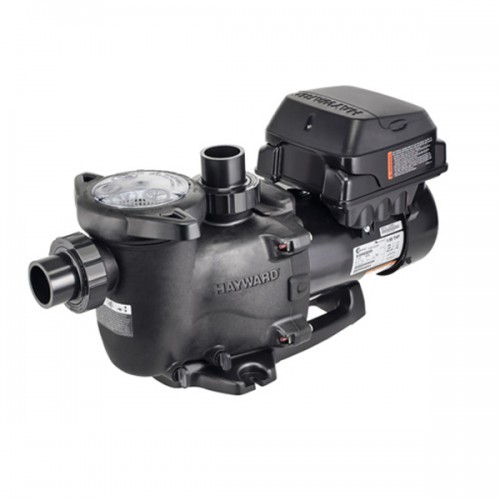 Taking the first step in energy efficiency is simple with the variable-speed MaxFlo VS. Offering up to 70% energy cost savings over single-speed alternatives MaxFlo VS is an ideal pool upgrade for those looking to reduce energy use and save money.
VSPs are the ultimate way to save your customers energy. Most other variable-speed models, however, are oversized when compared to medium-head pool pumps. MaxFlo VS is right-sized, particularly for applications with 1.5" or 2" plumbing, providing tremendous energy savings that result in an even faster return on investment.
MaxFlo VS provides customizable speed, duration and priming time to match the needs of aftermarket and new construction. Programmable timers and a totally-enclosed permanent magnet motor mean this pool pump meets the requirements of swimming pool efficiency standards such as Title 20 and APSP-15.
Save up to 70% on energy costs when compared to ordinary single-speed pumps
Permanent magnet, totally enclosed fan cooled (TEFC) motor design offers incredible energy efficiency and reliability
Right-sized, particularly for applications with 1.5" plumbing
Integrated, programmable interface customizes speed, duration, and priming time
Operates quietly, especially at energy-saving lower speeds
Aligns with the entire Max-Flo line for seamless retrofit installations
Pump Specifications
Rated HorsePower
Variable Speed
Voltage
230V
Pipe Size
1-1/2" - 2"
Aquadam Pool Services provides installation services for all the products we sell.
We strive to ensure all installations are completed per manufacturer specifications and include all the parts and services required.
Included are the installation of check valves, sacrificial anodes and equipment bonding wire where applicable. We include all Water Connections, Electrical Connections and Gas Connection Services (subcontracted to Paradigm Venture Heating and Cooling) and all the required plumbing parts with our pricing. *some conditions may apply
Installation pricing is based upon the replacement of existing equipment of similar specifications, size and function. Additional charges may apply if additional parts and labour are required to upgrade services or to conform to local codes.
(Ex. Upgrading Electrical Services or Gas Supply Services)
For additional product information please visit Hayward Pool Products website.